Experienced Doula & British Trained Midwife
Birth is a journey and after more than 15 years in the birthing profession I know and appreciate that everyone's journey and destination is different. As a Doula, I promise to offer unwavering support to you and your family before, during, and after birth. My aim is to empower you to be able to make informed and safe decisions about your care. I will stay in close contact in order to routinely check how you're doing and offer support.
Charmaine is a British trained Midwife with more than a decade of experience who is now practicing as a Doula in Alpharetta, Georgia since moving to the USA with her family in 2014.
As a Midwife Charmaine practiced at Queens Charlottes and St Mary's hospitals which are part of the Imperial Healthcare NHS Trust where the Royals Prince George, Princess Charlotte and Prince Louis were born!!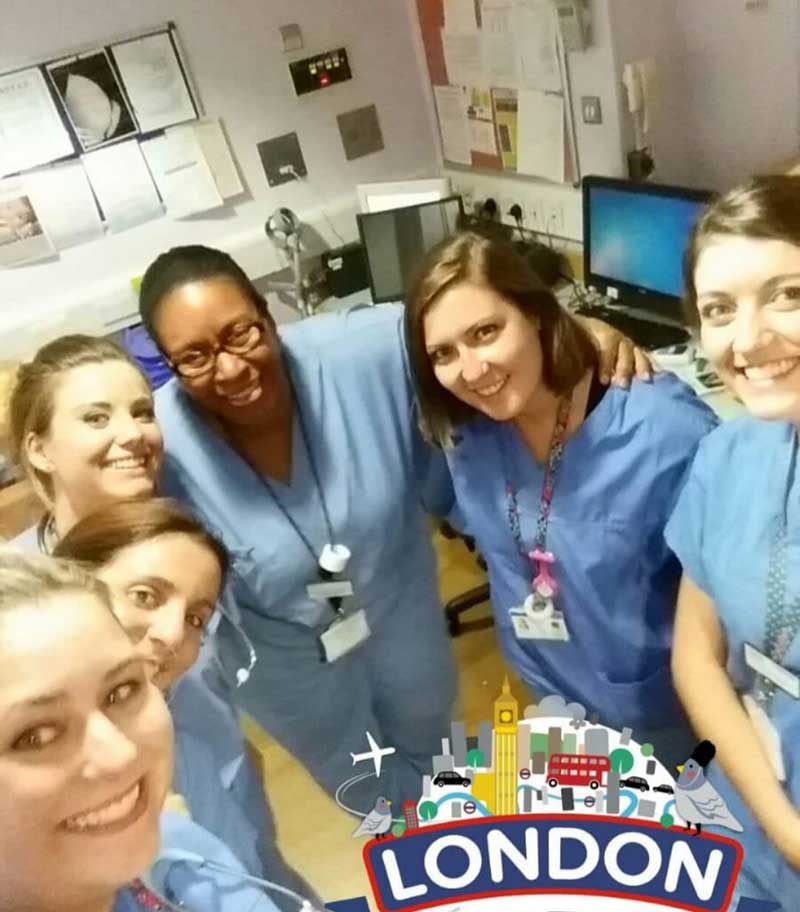 Experienced Doula &
British Trained Midwife
Credentials
Master of Science – Health Services Administration (Hons)
Bachelor of Science (Hons) Midwifery (NMC)
Doula Trained
Breastfeeding Management
NLS (Neonatal Life Support)
Birth Support & Postpartum Services
During her time at Imperial Health Care Charmaine gained extensive experience working on the Postpartum, Delivery, Antepartum wards and was part of a team that delivered Midwifery care in local clinics and also provided extensive in-home postpartum support which greatly reduced complications associated with the Postpartum period. 
Her areas of expertise are Birth, Postpartum Care, and Jaundice detection; she has also worked in a tongue tie clinic that detected and visualized tongue and lip ties in newborns.
The benefit to you of having a UK-trained Midwife as a Doula is her sound understanding and experience of birth from a clinical and physical support standpoint, her dedication to advocacy, and ensuring you are able to make informed decisions about your pregnancy.  Whist Charmaine no longer practices clinically her clients benefit from her extensive knowledge of Midwifery and Birth.
When I am not supporting women and their families, I love to spend time with family particularly my awesome teenager, helping her to negotiate her her way through University!! 
I am also more than halfway through a Masters in Healthcare Administration, which I plan to use to work with policymakers to try and effect positive change in Obstetric health.
I also enjoy swimming, traveling, and the theatre.
Charmaine is the best! As first time parents, we didn't know what we were getting ourselves into, but Charmaine helped us out tremendously.
As our postpartum doula she helped us with breastfeeding, bathing, etc. She even accompanied me to a newborn shoot to make sure we were gonna be able to get our little lady quiet and asleep, and honestly I don't know if I would have survived that day without her.
Charmaine has a lot of experience and is always willing to answer all our questions! Would highly recommend her services to anyone.
Charmaine was amazing through the entire process- pregnancy, birth, and postpartum. She came to our home and walked us through everything we could expect. Although we had taken a birthing class we really didn't need to because Charmaine was so thorough and covered everything we would need to know.
During the birthing process Charmaine kept me and my husband calm and gave support when needed. Postpartum was when Charmaine was priceless for me.
She helped me settle back in at home and did what ever I needed to be comfortable. The baby loved Charmaine and was an angel every time she came to help out. Getting a few minutes to myself to shower and take a couple of naps during those first few weeks helped tremendously.
Needless to say if we have another baby I will have Charmaine by my side again!
Charmaine is amazing at what she does. My patients have had wonderful births because of her. Even the babies love her. I recommend her for both her doula services and the postpartum services she offers. Thanks Charmaine for being such a crucial piece to my patients birth story.
Hiring Charmaine as my doula turned out to be one of the most important purchases, I made during my first trimester. Her knowledge and support was so important to me and my husband's peace of mind during and after my pregnancy. She was there to answer any questions I had, supported me through an unexpected C- section, and helped take care of me and the baby at home during my recovery period. I have developed a very deep fondness and appreciation for her and will definitely keep her on speed dial for my next pregnancy!
Charmaine provided doula services for me in 2017 for the delivery of my daughter. I had a rather complicated labor as I was induced and the end result was a c-section.
Charmaine was knowledgeable, comforting and attentive during my labor – and in my case since I wound up having a cesarean the aftercare that I received from her for about six weeks was invaluable.
During that time she helped me with getting acclimated to a newborn as well as recovering – allowing me time to nap during her visits!
She is trustworthy, reliable, intelligent and compassionate which is exactly what every new mom needs! She provided exceptional support and I am forever thankful.
Charmaine was there every step of the way. She was an excellent addition to our support team. As a first time Mum, she eased anxiety and checked in consistently. Knowledgeable and reliable she helped us adjust to being first time parents easing our transition into becoming a happy healthy family.
Even though we had a c-section and she could not be in the room for the birth, she had me up and moving shortly after. Assisted with after surgery care and basic chores while I recovered.
We absolutely love Charmaine! Honestly, my husband and I are not sure how we would have made it through our birth experience without her. She provided the support me, and our whole family, needed every step of the way. Her knowledge and services were invaluable, we could trust her completely, her personality and character fit perfectly for the job, and she went above and beyond every step of the way. She's the best!
A consummate professional and a knowledgeable, patient teacher: Charmaine's expertise, and practical experience were an absolute asset to us as we made the leap into parenthood.
She guided us from survival mode into a steady routine over those first few crucial weeks. If you are on the fence about whether to engage a doula to help with starting a family or a new addition to an existing one, we recommend Charmaine without reservation
Charmaine was such a blessing into our family. We sought out her service to give us support and reach our goal of a natural birth.  She was extremely helpful during our birth delivery.
We made the right choice of having her as our doula knowing she is a midwife. She was even more knowledgeable than the nurse in the hospital – there are times when you just have to watch, but there are also times when you need to speak up when you know something is off. Together with my husband, their reassuring presence gave me the strength of pushing my daughter, drug-free, of almost 20 hours.
We are first time parents and no amount of classes or reading of books could prepare us for the biggest change of our life. Even the color of the poop, or small rash could give us something to worry.  But knowing we have Charmaine, on sms or phone call away made us confident of facing the hours and weeks ahead of us.
I cannot speak highly enough of her and how important she was to the birth of my daughter. I recommend to anyone that is pregnant to hire a doula and have Charmaine help you prepare the pre and post labor delivery.
The more help we get, the faster our body heals physically, emotionally… and all the more equipped of becoming able, good parents.
Charmaine came into my life when I had no ideas what I was doing or what to expect. I was roughly 12 weeks pregnant no family expect my in-laws as my support system. Even though they were awesome I still felt like I was missing a deeper connection, so I decided to find a doula.
I was NOT very open to meeting new ppl but Charmaine's energy was magnifying and on such a different wave that I just couldn't ignore it. I instantly gravitated to her personality and genuine willingness to guide me thru my first pregnancy.
I've never met a  someone so knowledgeable on the ins and outs of what I should expect and even went as far as sharing her personal experiences with me to put me at ease.
There has never been a time that I've called Charmaine and she wasn't there for me mentally or even physically, I couldn't have asked for a better advocate for me and my baby.
Delivery was such a surreal experience and I was able to bring my son into this world in the most virtuous way with Charmaine by my side.
Our relationship has transitioned from professionals to a genuine friendship that I am grateful to have. Not to mention she can cook her tail off.
I look forward to having her hold my hand thru my second pregnancy and see me thru another safe water birth . I wouldn't have it any other way. ❤️